This year marks a special anniversary for me: it's a decade since Cannon PR opened its doors for business for the very first time and exactly 20 years to the day that I embarked upon my career as a PR practitioner. This is the first article in a short series reflecting on those two decades of penning press releases, orchestrating interviews, as well as showcasing a few of the more creative campaigns I've had the privilege of working on.
I hope these articles will help to provide an insight into what working as PR professional is really like, and for those of you who are perhaps thinking about the next steps to take after leaving school or university, today I'm looking specifically at what employers look for when recruiting entry-level staff.
So, before you start firing out your CV to every PR agency in the land, STOP! Take a minute. Read this article. You never know, it may even help!
Career opportunities
My journey into PR began back in the halcyon days of the mid-1990s. Britpop was the only music in town, I was balancing my time between saving for driving lessons, working towards my A Levels and spending every other hour possible working in various jobs to earn enough money to buy my first car. I felt ready to make my mark on the world. The trouble was, I wasn't quite sure how.
In truth, PR had never entered my head as a career choice. I wanted to be a journalist when I grew up!
From a relatively young age, I enjoyed writing stories. I also enjoyed reading them too. I discovered I was good at English at school, and after a brief flirtation with the idea of following in my father's footsteps and pursuing a career in law, I decided to see whether I'd got what it took to see my name in lights… or rather newsprint!
During my time in the sixth form, I had the privilege of spending a little time undertaking work experience in the busy newsroom of my local paper. It proved to be a career defining moment.
As I entered the newsroom of my local newspaper for the first time, I was greeted by a flurry of activity. Reporters sat at their desks, and I quickly discovered there was a hierarchy in the newsroom, with sub editors pouring over paper plans, carefully working out the design of the next edition, whilst the reporters sat in order: local government, crime, women's interest and several eager newshounds, who spent their days scouring the streets in the hope of sourcing the next scoop. Behind the doors, the sports team sat, cramped around a couple of battered of desks, which had clearly seen better days.
There was a general buzz of phones ringing, stories breaking, the clatter of typewriters and the noise of the paper being pulled through the fax machine as it churned out page after page of, as I later discovered, press releases; the fax machine was positioned strategically over a large wastepaper bin. The smell of coffee and cigarette smoke lingered in the air.
It was an exciting environment for any 16-year-old to find themselves in, and I was gripped. Trips to court followed, and I was allocated my own desk and tasked with putting a few stories together for the paper and pouring over the large tomes of editions of yesteryear as I put together the archive pages.
Yes, it was the life of a journalist for me!
When I ended my time with the newspaper, the editor at the time gave me some sage words of advice:
"Journalism is an incredibly competitive industry. Most people want to be one, but few get past the first hurdle. Make sure you have a fall back plan. Go to university, get an English degree to prove you can read and write and get involved with its newspaper. If you like what you see, when you finish, give me a call and let's talk again."
I followed the advice to the letter… well, almost.
During my time at university, I steadily rose through the ranks from being an occasional contributor to subbing pages and finally, newspaper editor. I even received the college's prestigious journalism prize!
I will never forget visiting my desk in the student union for the first time. It was hidden under piles and piles of envelopes, each one containing a story, most of them completely unsuitable for our little publication. I'd stumbled across my first press release and that experience changed my life.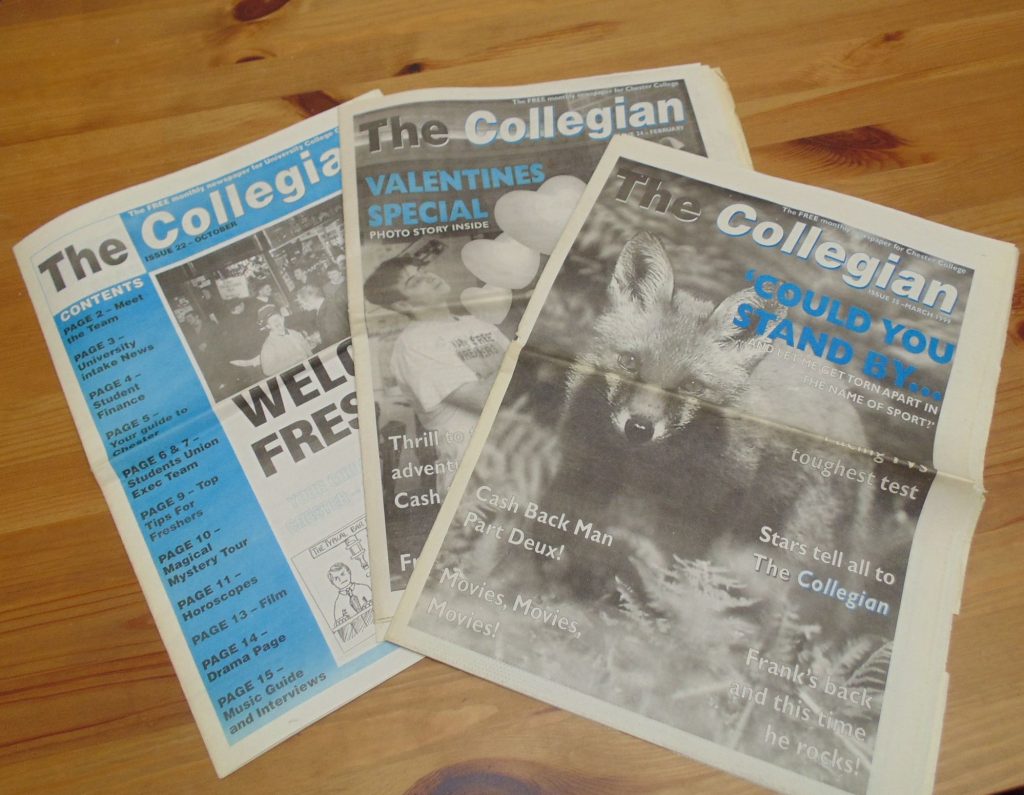 The problem with most of the ones I received was that they just weren't relevant. None of the eager PR people hoping to push copy onto our newspaper had a clue what the newspaper was all about.
However, one idea really fired my imagination. Why would different newspapers carry the same stories, and how did they receive them? Back in the 1990s, it was pretty much the norm for most journalists to devote their careers to one title, rising through the ranks from local weeklies to local dailies, regional dailies and finally the hallowed turf of Fleet Street.
I realised that the reason so many newspapers carried similar stories was because they were coming from press releases. I began researching the companies that had sent them to me, and with the help of a dial up Internet connection and a copy of the Yellow Pages, I discovered the world of public relations for the first time.
A change of career plan was needed.
By the spring of 2000, my finals were looming and the world of work and life after university started hurtling towards me at an alarming pace. I began scouring the adverts for entry level roles, became a regular reader of The Guardian's Monday media jobs pages and began firing off my CV to every possible agency I could lay my hands on. The nice ones replied, offering a few words of wisdom, but most were simply ignored.
Of the rare replies I would receive, I would be told the same message: you've got the qualifications, but you haven't got any experience. Try again when you've got some PR work experience under your belt. Speaking to recent graduates, it's a similar story for far too many people today, but I refused to take an unpaid internship (I simply couldn't afford to take one), and I'm proud that I've never, to this day, offered one.
Plan B.
It's worth remembering that PR wasn't really taught at undergraduate level back in the 1990s and there were just four universities in the UK that offered the chance to study PR at postgraduate level: Leeds, London, Stirling and Cardiff.
I decided to apply for the course at Stirling, and it was the best career decision I think I've ever made. The course not only promised an industry recognised qualification, but also the prospect of work experience.
Determined not to find myself in the same position I found myself in at the end of my undergraduate studies, I began looking for jobs. The gamble of a further year's study paid off, and by the time I left that course, I realised there was much more to a career in PR than simply churning out press releases.
I also realised that PR practitioners must have one vital skill in their armoury: creativity.
I've been on both sides of the table when it comes to recruitment. Back in 2001, I sincerely believed that if I could get the interview, I'd get the job.
Impressed by the efforts of some of my fellow classmates – one of whom secured that first precious interview after sending a prospective employer a Valentine's Day card, proclaiming to their future employer that they'd love to work for them – I decided to exercise my own creative juices, penning a short poem to an agency I hoped one day to work for.
With baited breath, I posted the poem along with my CV and waited…
The gamble paid off, and as I was still putting the finishing touches to my thesis, I was already working full time in my first professional public relations role – but more on that another time!
What do employers look for when recruiting for entry level PR positions?
Cannon PR regularly receives speculative CVs, and having been in the position where I know just how hard it can be to break into the PR industry, I thought it may be useful to share a few tips on what it takes to land your dream PR role; whether that's at Cannon PR or elsewhere, hopefully these few pieces of advice will stand you in good stead.
Be creative
PR is very much about seeing the world from a slightly different perspective from the norm. Don't simply say you're a creative individual, prove it! You don't need to spend your life savings producing some amazing piece of tech, or spend hours building a website to showcase your skills, just show your prospective employer what you can offer and what you can do.
Be meticulous
Ask any employer, not just in the world of PR, and they'll tell you that bad applications often stand out more than the good ones. I've received hopeful emails from individuals telling me how much they'd love to work for one of our competitors, or littered with basic mistakes and clearly no understanding about what public relations work is all about. Take your time with your approach.
Be very careful when it comes to attachments
There are plenty of scams doing the rounds when it comes to job applications. If I receive an email from someone asking for a job and it's a couple of sentences with a CV attached, there is absolutely no way I'm going to open it.
Be diligent
Not every PR agency is the same, but one thing I can almost guarantee is that if you are lucky enough to be invited for an interview, you will be asked, "what do you know about our business?" Most employers tend to take a dim view of people who can't answer this question!
Be courteous
Perhaps one of my biggest frustrations as an employer is to reply to a candidate, only for them to disappear. Many agencies tend to keep CVs on file for a period of time, even if they aren't currently recruiting. In some cases, a "No" isn't a no, it can mean "Not yet". Sometimes it can pay to keep in touch.
Be passionate
Today, just as it was when I started my career, public relations is an incredibly competitive career choice. To repeat the words I was told by the editor of the Rotherham Advertiser all those years ago… get a solid grounding of what it's really like to work in PR. Spend time, if you can, in a newsroom, get experience volunteering as a publicity officer with voluntary organisations or societies/clubs. But perhaps above all else, take an interest in the media landscape that surrounds you and become an avid reader of the news.